series
MISTRAL ev+
AUTOMATIC SANDBLASTING MACHINES
NO LIMITS TO SANDBLASTING
The automatic sandblasters of the MISTRAL series represent the top of Fratelli Pezza's product range. This series is available in 3 models: MISTRAL 120EV+, 180EV+ and 260EV +(max. working height 1200, 1800 and 2600 mm).
Sturdy and compact machines with small overall dimensions, easy to use by any operator, they are characterized by high productivity and low consumption of electricity and compressed air, and provide a wide range of processing options. It is possible to operate both automatically and manually and the maximum working height can be doubled thanks to the fact that the cabin is open topped. 
THE BEST OPTION TO SANDBLAST MIRRORS
Mistral EV+ is the most used sandblaster by LED mirrors manufacturers. They take advantage of the custom-made software (in particular of the zonal blasting feature) which allows to effectively remove the silvering and optimize the process. Moreover, all models are equipped with "MirrorProtection", a revolutionary system that limits the accumulation of static electricity within the cabin avoiding sparks, a phenomenon that often occurs during sandblasting on mirrors.
A NEW WAY TO DESIGN PRIVACY
The shading effect on glass, in particular for shower boxes, has become a trend in bathroom furniture design. Mistral EV+ allows to carry out different kinds of shading effect, giving a wide range of decoration options to interior designers.
DUST PROTECTION
The sandblasters are equipped with a high efficiency filtration system with automatic recovery and recycling of the abrasive material and separation of waste dust. The rubber gaskets ensure airtight seal, preventing the dust from escaping into the surrounding environment.
4.0 READY
All versions are compliant with the requirements of Industry 4.0. Interconnection, digitalization of the production process and constant monitoring of performance are key factors for the competitive development of glass companies.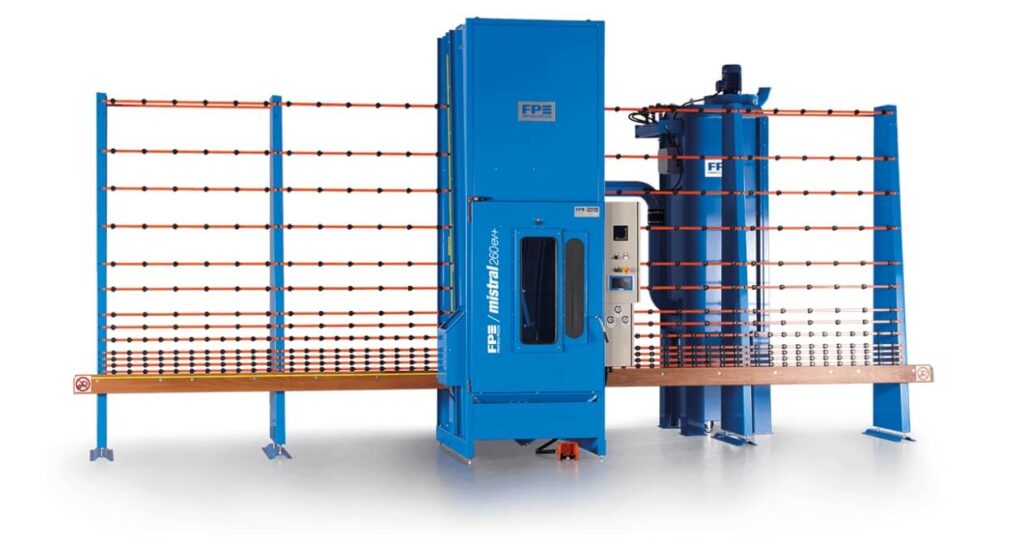 — Automatic processing up to 2600 mm height
— Standard configuration with 3 automatic guns
— Total electrical consumption 3 kW
PROCESSING
WORKING FEATURES
STANDARD CONFIGURATION
SOFTWARE
CONSUMPTION & PERFORMANCE
OPTIONAL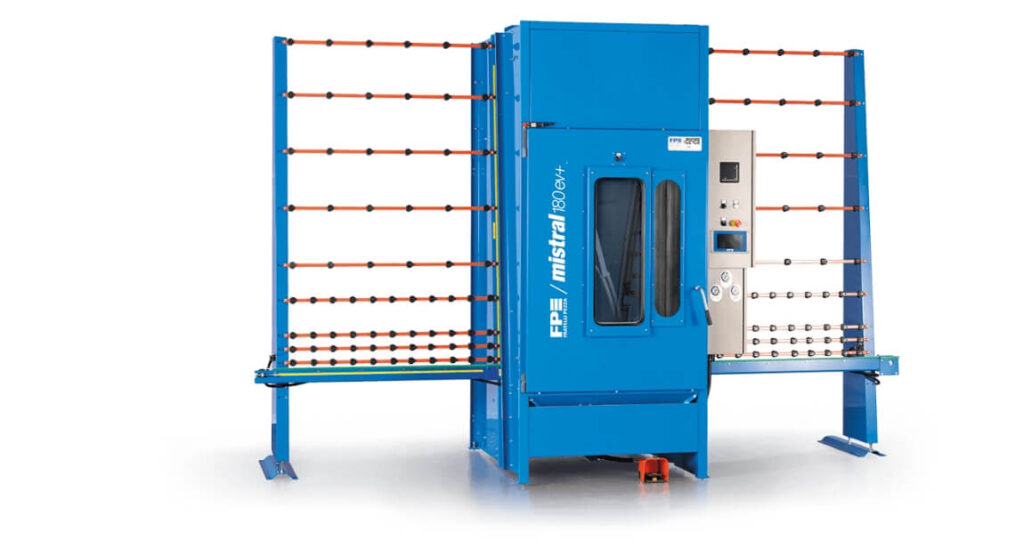 — Automatic processing up to 1800 mm height
— Standard configuration with 1 automatic guns, second gun on request
— Total electrical consumption 2 kW
PROCESSING
WORKING FEATURES
STANDARD CONFIGURATION
SOFTWARE
CONSUMPTION & PERFORMANCE
OPTIONALS
WEB APPLICATION
MISTRAL APP
Fast remote programming of the sandblaster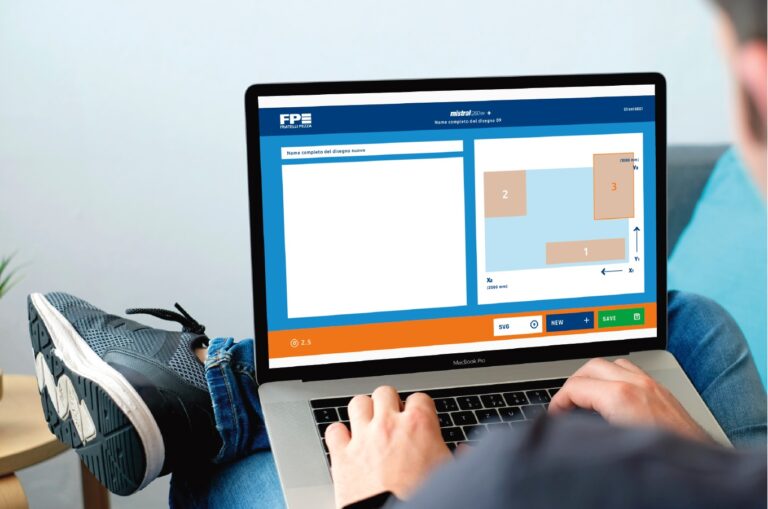 MISTRAL APP is the web application that optimizes programming times and processing management thanks to the ability to operate remotely.
REMOTE PROGRAMMIING
Program the sandblaster directly from your PC or tablet.
PROGRAMMING WHENEVER YOU WANT!
You can program the sandblaster even while it is working without interrupting the process.
YOUR PROGRAMS ALWAYS AVAILABLE
Possibility to save programs without limits and make backups to always have them available.
NAME, MODIFY AND COPY
Reduction of programming times and easy recovery of working programs.

GRAPHIC PREVIEW
 Preview of both glass and areas to be blasted

DO YOU OWN MORE THAN A MISTRAL EV+?
Possibility to program several machines using a single web tool.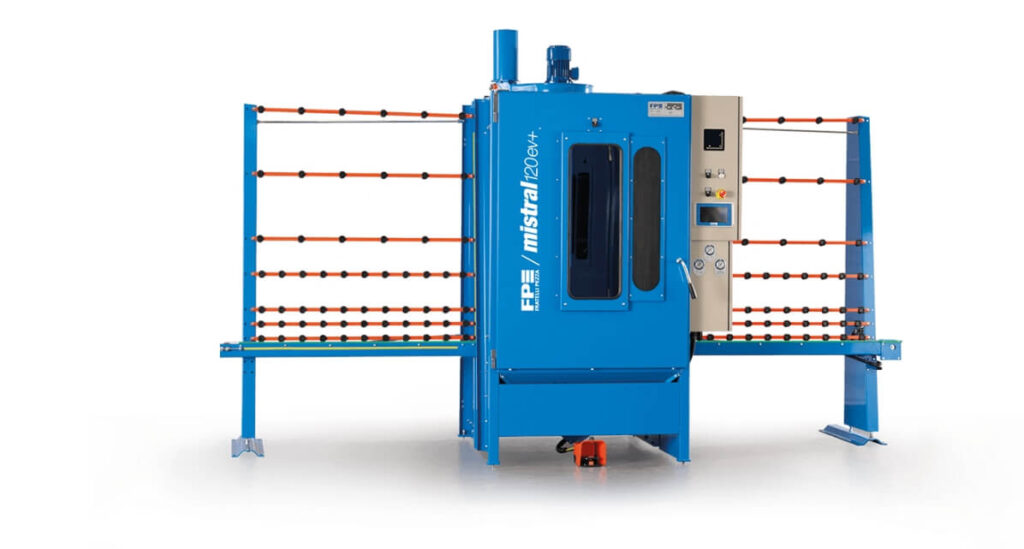 — Automatic processing up to 1200 mm height

— Standard configuration with 1 automatic guns, second gun on request

— Total electrical consumption 2 kW
PROCESSING
WORKING FEATURES DI SABBIATURA
STANDARD CONFIGURATION
SOFTWARE
CONSUMPTION & PERFORMANCE
OPTIONALS